14th Oct. Cyber Ireland presents an exciting panel to discuss 5G Deployment and Security in Ireland from a technical and regulatory perspective.
14th Oct. ITAG Webinar – we can influence and persuade through the art of storytelling.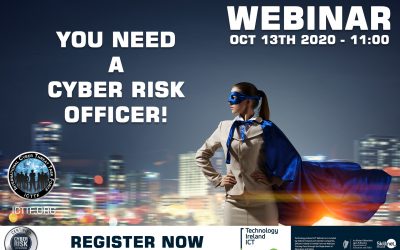 13th Oct. ICT Skillnet – Paul C Dwyer outlines the business case for a "Cyber Risk Officer"
Register Here
13th Oct. CorkSec – Running since June 2013, CorkSec every month we have 2 talks focused on Security or Technology
Register Here
16th Oct. CyberSafeIreland with the support of PTSB is introducing the first Cyber Break day
Register Here
To see all Cyber Ireland, partner & member events & webinars check our
Cyber Security Month Page.
It's not too late to get involved – Is your company organising a webinar, activity or has security resources you'd like to share? Send an email to 

[email protected]
CYBER-SKILLS project awarded €8.1 million in funding to address the skills shortages in the cybersecurity sector
Cyber Ireland is the industry partner for the CYBER-SKILLS project which will be coordinated nationally across five higher education institutions, namely: Cork Institute of Technology, IT Tralee, University of Limerick, Technological University Dublin and University College Dublin. 
See the Press Release from HEA and CIT.

EU CyberNet Project Calls for Cyber Security experts from Ireland
The EU Cyber Capacity Building Network is inviting the Irish cyber security community to join the EU CyberNet Expert Pool to provide technical assistance or knowhow to EU activities that take place in the third countries in the field of cyber security and cyber crime. For more information see https://www.eucybernet.eu/expert-pool/