In a business or organization, Diversity and Inclusion are quite important. Because a company thrives when there is a pool of different thoughts within the team. Diverse teams bring diverse ideas and an opportunity for new outcomes.
Quite often, skilled and talented job applicants are intimidated by the job descriptions advertised on job postings/company's website because the criteria for applying is either too rigid or excludes them. Both parties lose when this happens. The company misses out on getting talented people with the right skills and the applicant loses out on pursuing their dream career.
Writing inclusive job descriptions will contribute to the growth of your business. There are several ways to make your job descriptions and adverts more inclusive and gender-neutral, here's how;
1. Avoid gendered language
It is important to avoid language that discriminates against other genders. Use pronouns that are not specific to one gender or another. For example rather than "He should have the required skills" or  "she should be able to" refer to the candidate specifically or use "they/them" pronouns. Using phrases like;
"The ideal candidate should have",
"the person should be able to prove",
"they should be skilled in",
shows that the organization accepts all types of people. Gender Decoder is a great tool to use to fight subtle bias in your job ads.
2. Be aware of literacy and cognitive exclusion
Write your job adverts and descriptions with simple language to ensure that it does not require a high level of literacy to decode. Avoiding complex language and structure will help people who may have a learning disorder or trouble processing written language but can function on the job. Studies have shown people with dyslexia reporting that standard job descriptions and hiring processes stopped them from applying for certain jobs.
Also, using simpler language and structure will also include people with different levels of literacy as it relates to their age.
Write accessible content by keeping sentences short, keeping paragraphs short, and using plenty of white space. You can also use fonts like Arial, Comic Sans Verdana, Tahoma, Century Gothic, Trebuchet, Calibri, or Open Sans, as these are easier to read. Avoid underlined and italicized text, rather use bold for emphasis instead. Avoid industry jargon to keep your job descriptions as inclusive as possible. Tools like Grammarly and Hemingway Editor can streamline this process.
3. Only include "must-have" requirements in the job description
A hiring manager may have an extensive list of qualifications required for a given job. Yet to emphasize your dedication to diversity, it's critical to manage the list. For example, rather than require a Bachelors's degree, you could specify the number of years of relevant experience instead.
Studies show that while men are likely to apply to jobs for which they meet only 60% of the qualifications, women are much more likely to hesitate unless they meet 100% of the listed requirements. So, only include requirements for a role that is necessary and avoid "nice-to-have" or "bonus" requirements. This also means you should not require industry certifications such as CISSP, CISM, or similar as mandatory. Focus only on the most important requirements for a role, will increase the chances of acquiring diverse applicants.
4. Show dedication to diversity and inclusion
The company needs to showcase its commitment to diversity and inclusion by building a workspace where everyone is represented. This can also be done by creating diversity and inclusion programs for your organization. Including statements of commitment in your job description and on your company website, encourages people of all social classes and groups to apply.
5. Interview candidates with a diverse panel
It is important and advisable to make sure that your interviewing panel includes a diverse selection of your employees. This avoids unconscious biases from influencing the interview and hiring process. It also helps candidates feel more comfortable, and confident.
A company's success is the success of its employees. Companies should commit to eliminating conscious and unconscious bias in job adverts and workplace culture. Also, training your recruiters to be more sensitive when hiring will have a positive effect on innovation within the company.
Cyber Women Ireland is currently working on a Diversity Toolkit that will address the current issues in workplaces across Ireland.
Follow Cyber Women Ireland on LinkedIn, Twitter and Instagram.
About Author: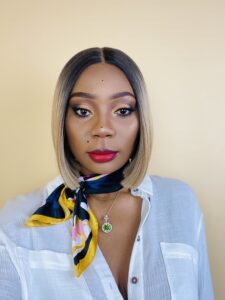 Blessing Usoro is a cybersecurity consultant working with JP Morgan Chase as an Information Security Manager. She's had a meteoric rise to being a prominent voice for women in cybersecurity in Ireland as a co-founder of Cyber Women Ireland, she's driven by her passion for raising the bar in cybersecurity for all enterprises. She sits on the ICT Advisory Board of Dublin Business School providing expert advice to the cybersecurity curriculum, and was recently named as one of the Top 100 Most Influential Women in Cybersecurity by Women4Cyber Europe.
Social Media Handles
Linkedin – https://linkedin.com/in/blessingausoro
Website – www.blessingusoro.com