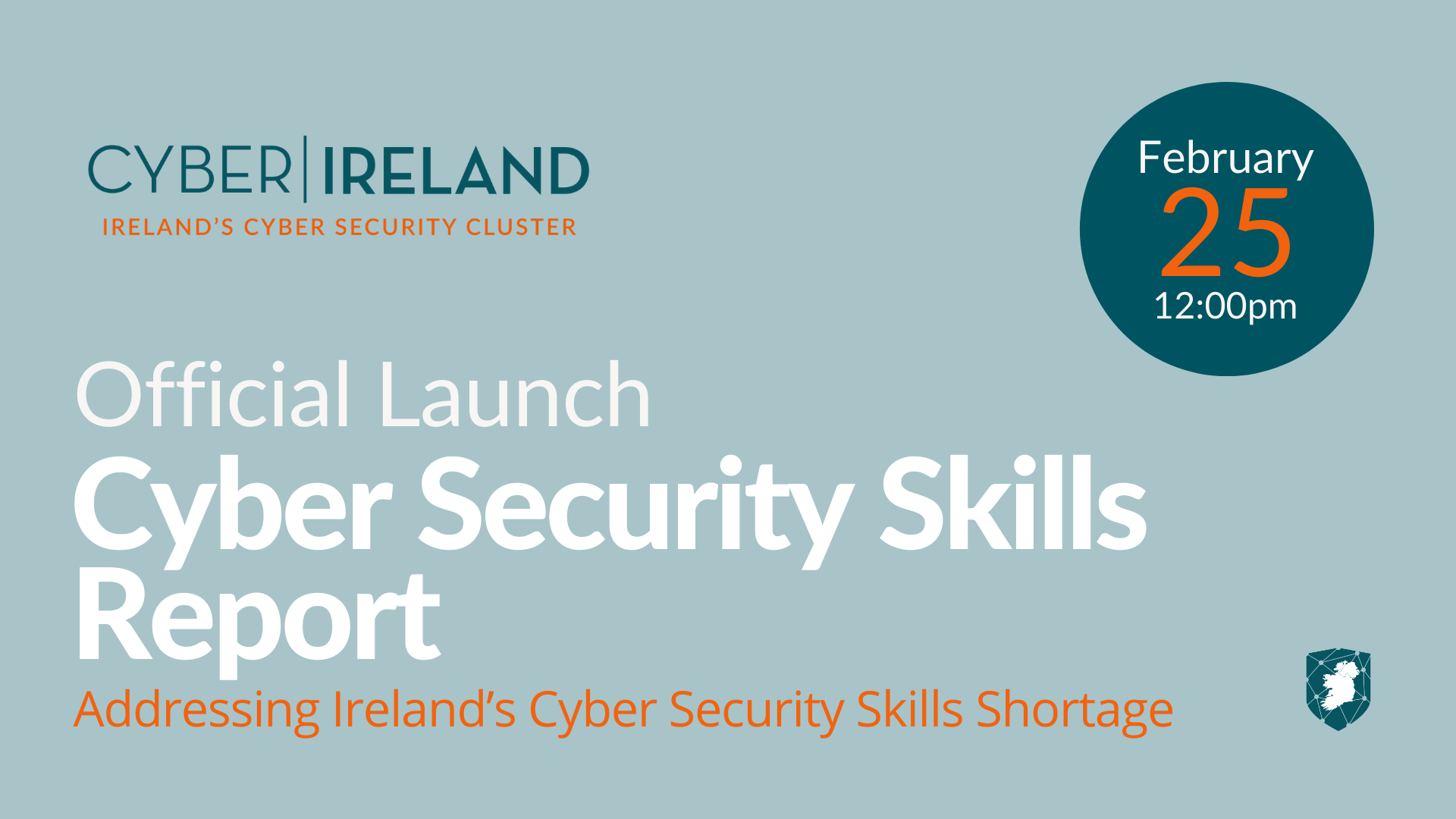 25th Feb. Cyber Ireland Webinar: Cyber Security Skills Report Launch
Cyber Security Skills Report Launch
Addressing Ireland's Cyber Security Skills Shortage
The cyber security industry employs over 7,000 people in Ireland, and it is estimated that almost 30,000 professionals have Cyber security related skills. The top factor for companies in locating their cyber business in Ireland is access to specialised skills.[1] Ireland's cyber security sector and employment is growing, reflecting global growth in the cyber security market. However, internationally there are reports of a severe shortage of Cyber Security professionals with estimates of a global shortfall between 1.8 and 3.5 million security professionals within five years (EY's Global Information Security Survey 2018-2019 & Cyber Ventures). Presently, there is limited skills data specific to cyber security in the Irish marketplace and this provides a challenge in understanding the current skills landscape, needs and where there are challenges.
In 2020, a Cyber Security Skills Report was conducted with Cyber Ireland members to provide a better understanding of the current cyber labour market in Ireland. Over 80 respondents from industry provided data on: Cyber Roles & Certifications, Hiring & Retaining Security Staff, Skills & Training, and Gender Diversity Programmes. The results have highlighted strengths and identified challenges, including Cyber security skills gaps and skills shortages. These shortages are impacting organisations of all sizes (micro, small, medium and large), across a range of sectors including indigenous and foreign owned companies.  To address these challenges, recommendations are made that need to be jointly addressed by industry, academia and government.
To launch the Cyber Security Skills Report, an online event will be held to present the findings and recommendations from the survey. A panel discussion will be held with leaders and organisations who are actively addressing the cyber skills shortage in Ireland.
Cyber Skills is an €8.1m funded, lead by Munster Technological University and comprising of five Higher Education Institutes, that aims to address the shortage of cybersecurity professionals through an online cyber learning environment.
At a country level, Cyber Women Ireland looks to encourage the advancement and capacity of women involved in all aspects of the Irish security sector and security community, through the exchange of information and the cultivation of productive relationships.
[1] https://www2.deloitte.com/ie/en/pages/risk/articles/cyber-opportunity-analysis-report.html