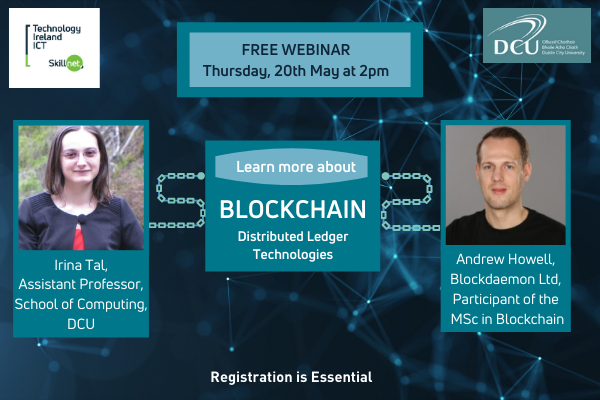 20th May. ICT Skillnet: Webinar | MSc in Blockchain at DCU
Join ICT Skillnet for a webinar about our part-funded MSc in Blockchain at DCU, on May 20th at 2pm.
Blockchain is a rapidly growing technology with the potential to disrupt traditional practices across a wide range of industries. The lack of technical Blockchain skills is of national and international concern as it is a significant inhibitor to Blockchain adoption in companies across key industries including manufacturing, supply-chain, health, food, finance and the public sector.
In this webinar we will discuss what the future Blockchain skill requirements are. We will hear from speakers about how they have responded to the increasing need to up- and re-skill and how Technology Ireland ICT Skillnet & DCU have developed a MSc in Blockchain (Distributed Ledger Technologies) to support individuals to develop a career in Blockchain.
Our speakers will include Irina Tal, Assistant Professor and chair of the MSc in Blockchain at DCU and Andrew Howell, a current MSc in Blockchain student and Director of Blockchain Engineering at Blockdaemon LTD.
Join our blockchain webinar for a full overview of the course, modules and opportunities. You will also have the chance to ask any questions that you may have, as well as hear what DCU has to offer. This session will last approximately 40 minutes.
Find out more about this course here: https://www.ictskillnet.ie/training/msc-in-blockchain/