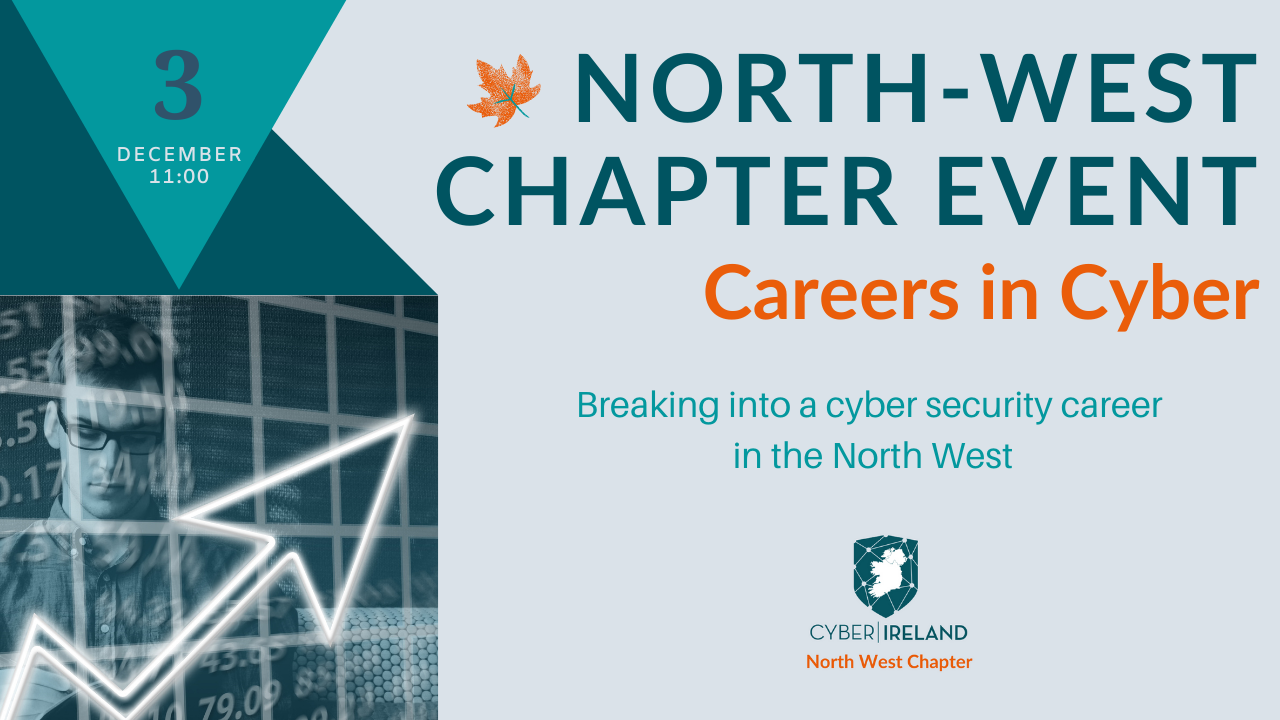 3rd Dec. North West Chapter Event: Careers in Cyber
Following on from the very successfully virtual Launch of the North West Chapter and after reviewing the feedback given during that first session, we are delighted to announce our next virtual meetup titled 'Careers in Cyber'.
We will hear from a number of speakers from different sectors of Cyber Security describing their journey to-date.
This will follow on to a panel discussion where representatives from training providers will give an insight into different Cyber Security training paths available in the North West.
Agenda:
Introduction – Veronica Rogers, Lecturer at IT Sligo
Our Cyber Security Careers:
Finbar Jackson – Manufacturing Systems Cyber Security Specialist, AbbVie Inc,
Virginia Lee – CyberSecurity Manager – DevSecOps, Pramerica
Stephanie Perry – Head of Professional Services, Advantio
Panel Discussion: Training facilities in the North-West:
Diane O'Brien – Head of Department of Computing and Electronic Engineering, IT Sligo
Declan Foley – MSLETB ICT Cyber Security Apprenticeship Instructor
John McGarvey – Lecturer, Letterkenny Institute of Technology
Have your say and join us in supporting a strong and vibrant cyber security ecosystem in the North-West.
To join the North-West Chapter you must be a Cyber Ireland member. Further information on membership can be found here
From the North-West Chapter Leads:
Paul Brady, Optum
Cian Collins, Advantio
John McGarvey, Letterkenny Institute of Technology
Veronica Rogers, Institute of Technology Sligo
---
Do you want to be part of Ireland's Cyber Security Cluster? Check our Membership Page