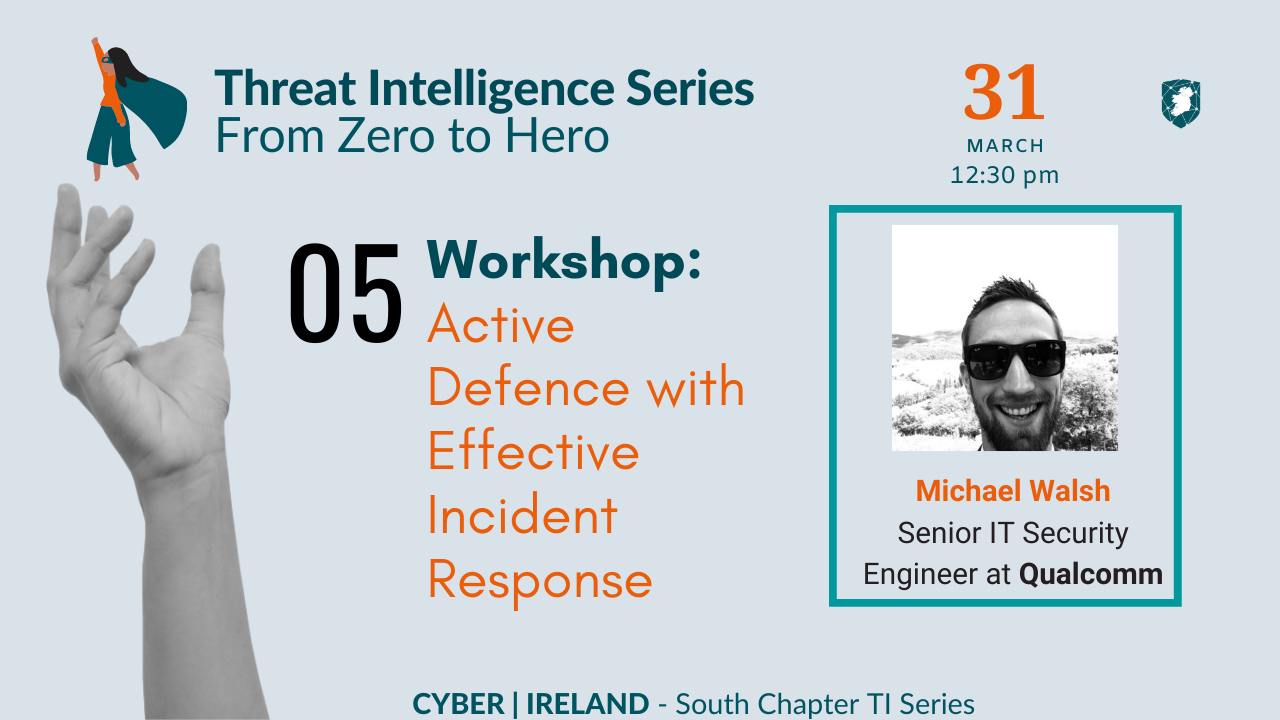 31st March. TI Series – 5th Session: Active Defence with Effective Incident Response
The Cyber Ireland Threat Intel Group aims to build the expertise within the Cyber Ireland community to develop Threat Intelligence capabilities through the sharing of knowledge and experiences at a strategic level.
Topic: "Active Defence with Effective Incident Response"
The aim of this talk will be to help focus on key area's which Incident Response teams may look to mature in order to stay on top of the ever-changing threats in this space. This presentation will step through some of the key methodologies required to build an effective Incident Response process, including the required roles for an active incident response team. We will also delve into the mindset of critical thinking to ensure your team is successful in every Incident response engagement.
About the Speaker:
Michael Walsh, Senior IT Security Engineer at Qualcomm, is an active blue team member and heavily involved in Incident Response, Threat Intelligence and Investigation work. He is also involved in local security meet-ups such as OWASP and Cork|Sec.
"5th Session: "Active Defence with Effective Incident Response" Register Here
1. Phase: START FROM ZERO

Session 1. Threat Intell & Mitre At&ck 101.
You can watch the webinar HERE
And review the webinar HERE
---

Session 2: Developing your Strategy.
You can watch the webinar HERE
And review the webinar HERE
---

Session 3: Law Enforcement
You can watch the webinar HERE
And review the webinar HERE
---

Session 4: Threat intelligence platforms and consumption 101
You can watch the webinar HERE
And review the webinar HERE