To highlight our membership for 2021 and the cyber security cluster itself, we have updated theCyber Ireland Membership Map. This map includes all our members from industry, academia and government who are located across the Republic.  
For any organisations that haven't yet signed up for 2020/2021 membership, you can find more information on the Membership Page.
Get Involved in Cyber Ireland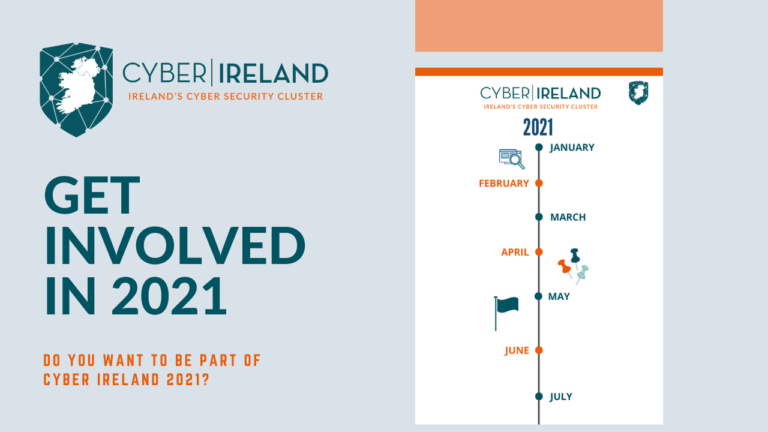 All Cyber Ireland's activities are developed by the cluster members for the Cyber Security community. We're looking for volunteers to join the cluster's activities in 2021 and have a number of opportunities for you to contribute to, from Speaking Opportunities, Career Promotion to Schools, an SME Sub-committee and much more.
If you are interested, please complete the Form below:
TI Series: From Zero to Hero
04 Workshop: Threat Intelligence platforms and consumption 101
(24th Feb @12:30pm)

Our next TI Series Webinar will be held on the 24th February at 12:30pm discussing "Threat Intelligence platforms and consumption 101".
Talent & Skills
Launch of Skills Survey & Webinar (25th Feb @12pm)

Cyber Ireland conducted its first Cyber Security Skills Report to provide a better understanding of the current cyber security labour market in Ireland. The results have highlighted strengths and identified challenges, including Cyber security skills gaps and skills shortages. 

To launch the Cyber Security Skills Report, an online event will present the findings and recommendations from the survey, including a panel discussion with leaders and organisations who are actively addressing the cyber skills shortage in Ireland.
New Job Posts
Find more open roles HERE
New Cyber Security Courses
Stay-up to date with new cyber security courses on our Cyber Course Mapper:
150+ Courses
25+ Institutions
4 new IT Sligo courses added in the past month
Women in Cyber Security
Jacky Fox, Security Lead at Accenture Ireland and Vice Chair of Cyber Ireland, was this week interviewed by the International Cyber Threat Task Force (ICTTF) podcast.
They covered an array of topics from how to encourage women into the Cyber Security industry to advice on how to develop your career path with appropriate education and experience.
What's Happening in Europe
Women in Cyber Security
We have just published a New Blog Post about the New EU Cybersecurity Legislation to Replace NIS Directive.
Accompanying the launch of the "EU's Cybersecurity Strategy for the Digital Decade" in mid December last, the EU Commission published a proposal for a new EU cybersecurity law to replace the current NIS Directive. The proposal is to update the existing legal framework taking account of increased digitisation of society.
Read More
Threat Intelligence Series
3rd Session: How industry can engage with law enforcement
– Watch  on YouTube
Enterprise Ireland Brexit Supports
All relevant Brexit related interventions from Enterprise Ireland can be found here