Chairperson's Address & Cluster Membership
Hear from Cyber Ireland's Chairperson, Paul Walsh, on the impact of COVID-19, what the cluster has achieved and our plans for the future, including the cluster membership model….
Read More
Cluster Membership & Sustainability:
We had planned to launch our membership model in May 2020, but in light of current circumstances, we will delay the launch until June and are arranging an option for companies that are experiencing financial pressures due to COVID-19. Our strength is in our collective numbers to represent the sector and we do not want to risk losing this. For further information see the Chairperson's address….Read here.
Over 170 organisations are working together to make Ireland a global leader for cyber security. Our network includes leading indigenous and foreign cyber security companies in Ireland, companies with cyber security operations, companies with a need for cyber security solutions, knowledge providers (higher education institutes and research centres) and Government agencies. These companies comprise a range of sectors as cyber security is critical for all companies. Together, we can provide a strong collective voice for the cyber security sector in Ireland. See our membership breakdown below:
We have accomplished much in the past 12 months (and there is still a lot more to do!). If you'd would like to participate in any of these activities or have other suggestions for the cluster, let us know.
Building the Community –
 We facilitate connections and the sharing of experiences by connecting the cyber security community.
Cyber Women Ireland was launched in January and so far in 2020 CWI have participated in panels, conferences and podcasts across Ireland – bringing to the fore an enhanced visibility of female role models within Cyber Security in Ireland.
Launch of Regional Chapters
Over 160 people attended our South Chapter & West Chapter Launches in February. Both have followed-up with their 2nd meetings online in May, including the Cyber Track at AtlanTec Conference this week.
Dublin is next!
Talent Development –
 We aim to address the cyber security skills shortage and make Ireland a leading international location for cyber security talent.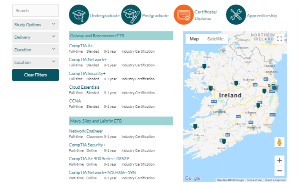 Developing the Future
Our Schools Academy was piloted in two secondary schools in Cork & Galway. Thanks to our school sponsors HPE and McAfee; we're currently recruiting more companies for phase 2.

IWISH Participation - Cyber Security was represented at the IWISH Conference in Cork & Dublin in January by our Cyber Ireland female role models who were inspiring young female students to pursue careers in cyber security
Research & Innovation – We promote Ireland's cyber security R&D expertise and enhance industry-academic collaboration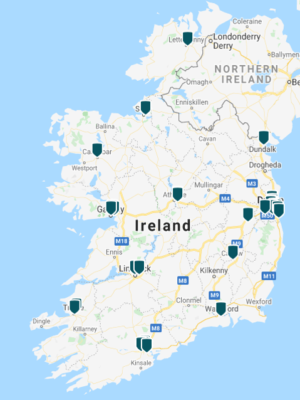 National Cyber Security Research Centre
Continuing engagement with the Research Funders

Commitment in the National Cyber Security Strategy that "SFI, along with DBEI and DCCAE, will explore the feasibility...to fund a significant initiative in Cyber Security Research."

Promoting national & international R&D funding calls.

Over 80 respondents to our Cyber Security R&D Mapping Survey of Industry & Academia.
Promotion & Business –
Promoting Ireland's cyber security sector nationally & internationally, connecting with international organisations, facilitating FDI and supporting the internationalisation of Irish SMEs.
Member of Global EPIC – a global network of 27 cyber security clusters
Event: Cyber Ireland – Cyber Wales Meeting (March 2020)
Event: Irish and Israeli Perspectives on National Cyber Strategies (December 2019)
Trade Delegation: Cyber Midlands UK Trade Delegation (July 2019)
Future Activities for 2020/2021
Building the Community
Establishing a Dublin Chapter

National Conference in October

Promoting Cyber Security Month

Diversity Pledge to ensure fair representation on all panels & cluster activities
Talent Development
Annual Cyber Skills Survey of Industry

Expanding the Cyber Ireland Schools Academy in 2021

Setting-up an Industry Expert Panel for course & module reviews
Research & Innovation:
Industry & Academia R&D Workshop

Continue to engage with National R&D Funders

Establish EU R&D Working Group
Promotion & Business
Inputting on Cyber Security Standards

SME Sub-committee

Student Cyber Security Accelerator Programme

Start-up Ecosystem Working Group